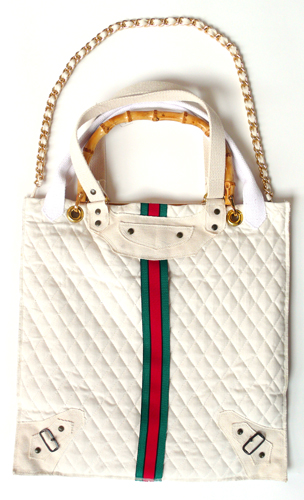 Slow and Steady Wins the Race
Ultimate Bag
Conceived and produced by fashion designer Mary Ping, Slow and Steady Wins the Race is a limited-edition catalogue of thoughtfully conceptualized ideas that focus on different specific and fundamental characteristics of clothing design.
This bag is a follow-up to her previous series of canvas "designer" handbags—which were executed in plain unbleached cotton muslin & canvas and distilled to the sparest details of hardware and shape to identify with its original. The Ultimate Bag is a hybridization of all of these previous handbags: the iconic Balenciaga, Dior, Hermes Birkin, and Chanel. This bag represents a visual hyperbolic expression about contemporary fashion's attention and obsession with designer handbags.