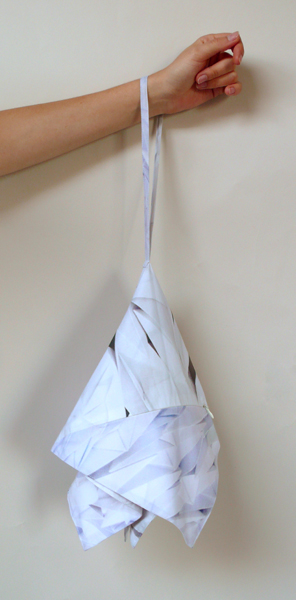 ffiXXed
La Nina, La Pinta, and the Santa Maria Handkerchief
This handkerchief contains 4 zippered pockets in each corner. It has a wristlet handle in the center of the open handkerchief, making this a unique purse or handbag. It is printed with the "La Nina, La Pinta, and the Santa Maria" image that can be found on several other garments from this season. More about this pattern below. From ffiXXed Autum/Winter 2012 Collection, Home Away from Home.

About Home Away from Home:
The way in which we occupy our bodies, and the spaces we inhabit, informs the new collection from ffiXXed, "Home away from home". The places we come from are no longer the places we call home, and living and working in a place that is not necessarily our own, defines for many, the geopolitical reality of our time.

This season ffiXXed have collaborated with Peruvian artist Jota Castro, with an image of his installation "la Nina, la Pinta, and the Santa Maria" reproduced on several pieces. The work, consisting of 4000 hand folded paper boats, takes its title from the fleet that brought Columbus to the Americas, and considers the human desire for emigration in light of the more personal journeys of recent times.

Amidst globalisation, exploratory experiences, mobility, transience and migration continue to delineate traditional notions of identity, belonging and community. The garments within this collection will find their own movements within the currents of global exchange, accompanying us on journeys and wanderings, making homes away from homes.