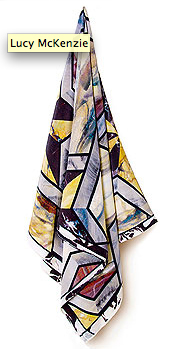 Lucy McKenzie
Marble Parquet Silk Scarf
This oversized silk scarf by Scottish artist Lucy McKenzie is part of the Artist Edition series from Berlin-based fashion line Little Red Riding Hood. Working predominantly as a painter, McKenzie's work often features traditional techniques derived from 19th century decoration, which she studied at the Van Der Kelen Logelain School in Brussels. The scarf features her hand-painted marble arranged in a typical geometric design used on parquet and stone floors. She renders marble on the ephemeral surface of silk so that something associated with solidity can be delicately draped around one's face. This spirit of playfulness and contradiction is recognized by all who are charmed by trompe l'oiel and willingly duped by its imitation.
Digital printed high-grade silk scarf, 110cmx110cm (approx 43" x 43"), limited edition of 100+ 11AP, 2009.
SOLD OUT