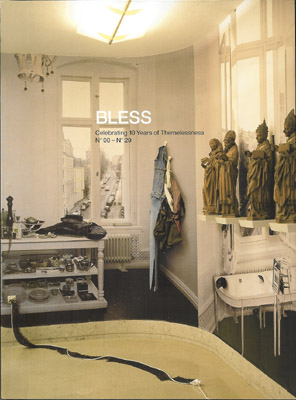 Bless
Celebrating 10 Years of Themelessness
Designed by Manuel Raeder, this fully illustrated book features for the first time the wide range of the French-German experimental fashion duo Bless' activity and documents a unique mode of cultural production. Edited by Desiree Heiss, Ines Kaag, Manuel Raeder, with contributions by Thimo te Duits, Elein Fleiss, Nakako Hayashi, Stéphanie Moisdon, Ulf Poschardt, Pro qm, Adriano Sack, Barbara Steiner, Olivier Zahm.
Interviews by Manuel Raeder with Nobuyoshi Tamura Shihan and by Jan Winkelmann with Bless.
Softcover, 18.5 x 25 cm, 496 pp., 196 color and 300 b/w ill., 2006.
SOLD OUT! THIS BOOK IS OUT OF PRINT.
*You are viewing our old webshop, which is out of date! To visit our new webshop and see our current BLESS items, please click here